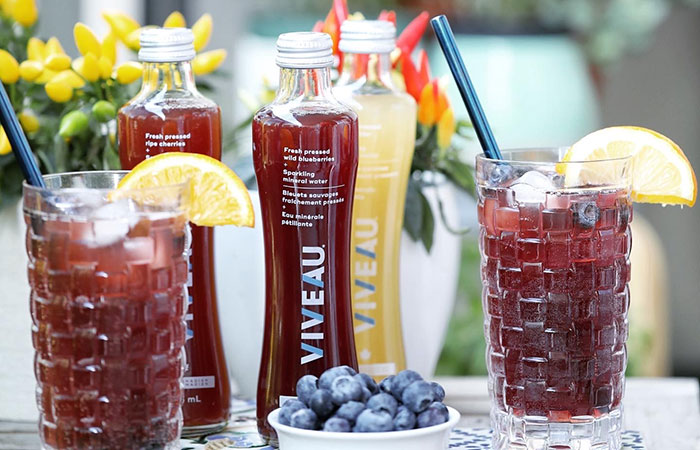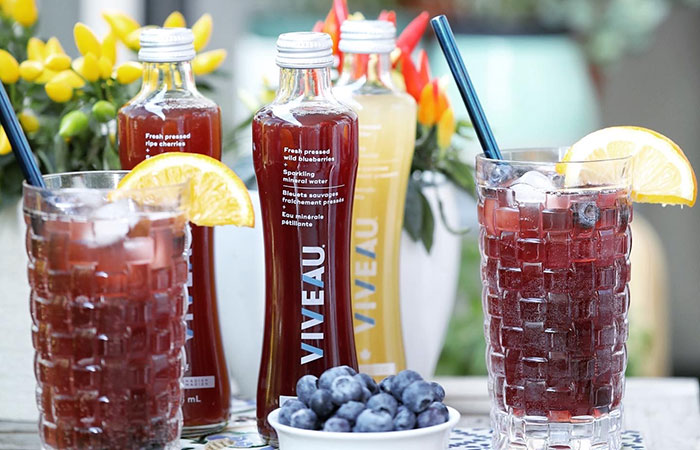 TASTES OF FALL: NOVA SCOTIA
Nova Scotia may not be considered Canada's top wine destination just yet. But there is a small thriving wine scene in the province. To go along with that, Nova Scotia has a booming beverage scene in general, and this latest Canadian-made drink has us daydreaming of a trip to the east coast. VIVEAU is the first sparkling beverage in North America to have earned the Clean Label Project Certification. It's 50% sparkling mineral water and 50% fresh-pressed fruit, made with no added sugars, colours, or preservatives and comes in three fruit options: Wild Blueberry, Cherry and Apple Cider. All three evoke flavours from across Canada, but our personal fave is blueberry because Nova Scotia is known for its wild blueberries.
Even though it's so refreshing on its own, we've taken the experience up a notch with a twist on a sangria. Combine white wine (get Nova Scotian white wine if you can, or any Canadian wine will work), orange liqueur, lemon and orange slices and a handful of blueberries. Top it off with VIVEAU's Wild Blueberry and pretend you're breathing in that Atlantic Ocean air.
TASTES OF FALL: FRANCE
How many of us are dreaming about a dreamy vacation in the South of France? We definitely are! And the South of France is not only home to incredible wines, but some hearty food that is perfectly comforting for fall. This wine we picked is also under $15 per bottle and comes from France's Languedoc region which sees more sunny days than most of the country, making it ideal for growing ripe, rich versions of cabernet sauvignon grapes.
Felix & Lucie's Cabernet Sauvignon delivers earthy flavours and aromas of cocoa, black fruit and rosemary so serve it with something hearty and bold. I've made a great potato salad using Maille mustard (grown right here in Canada, but it has French Heritage) by Canadian Chef Lynn Crawford. You can also use the mustard for rubs on lamb, pork, or even chicken. It gives it a real French feel. You can also check out maille.ca for more recipes inspired around the world from their chefs.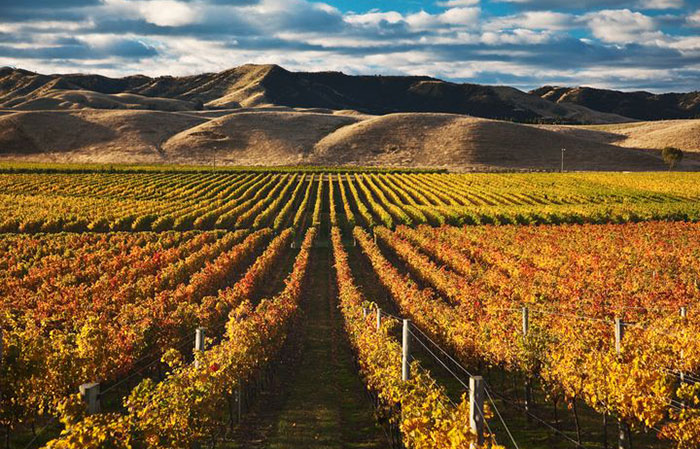 TASTES OF FALL: NEW ZEALAND
Right from Marlborough in beautiful New Zealand comes this Kim Crawford Pinot Noir. Kim Crawford is well-known for their #1 selling Sauvignon Blanc, but today we're celebrating red wines so I wanted to show you this Pinot Noir. It's a cool-climate Pinot Noir which means it offers classic flavours of black cherry and raspberry with some earth notes – it's about $23 per bottle.
For this pairing, I say make it easy on yourself and use a meal kit to help out. I use Chefs Plate because they have elevated meals, can introduce you to flavours from around the world, but are still really easy to make in about 30 mins. This one I did a hearty and healthy chickpea and potato curry to stand up with the bold flavours. It's like a stopover with this meal, New Zealand and then India!
TASTES OF FALL: ITALY

My ideal wine trip would be to Italy… and I have to say, I have never met a Chianti I didn't like!
Ruffino's Chianti is the #1 selling Chianti in Canada and is from Tuscany. It's one of the most recognized Tuscan wines in the world and boasts flavours of red berries, cherries with spicy notes and even a touch of pepper for just under $15. All flavours that are perfect for fall and chillier temperatures.
Pair this with a full on Italian spread of olives, marinated veggies, cheese and anything else. A big bowl of pasta also always works!